The world's most famous salad
There is no known direct link between Caesar Salad and the Roman Emperor, but the Italian-American chef Cesare Cardini in Tijuana, Mexico, is credited with its creation. It is much appreciated in the United States where it spread around the world.
The creator, Caesar Cardini, was an Italian chef who emigrated to Mexico where he and his brother ran several restaurants in the tourist area of Tijuana. As regards its real origin, there are several versions. One of them says that it was invented on July 4, 1926, with the purpose of celebrating the Independence Day of the United States, however, a very large group came to his restaurant on this day, more than expected, and with few ingredients available (basically romaine lettuce, egg, Italian cheese, some lemons, and dry bread) he improvised a simple but tasty salad. To the combination of ingredients, he added a sauce from an old family recipe, and… it was a real hit with the customers.
Another well-known version is that of the visit of some aviators who were old friends of Caesar Cardini and for whom he prepared the popular starter due to a lack of ingredients. And one last version says that the Italian chef created it for a culinary competition, in which he was the winner.
The real success of this dish was its tasty seasoning. Years later, Cardini patented the Caesar dressing in California and registered it under the trademark "Cardini's Original Caesar Dressing Mix". It became enormously popular throughout the country and that is why today we can find this fantastic recipe in any restaurant in the world, also of course because of its practicality.
Nowadays, there is a multitude of different versions and we propose you try this delicious Caesar Salad with Chicken very simple to prepare.
Caesar Salad 
Ingredients:
One large chicken breast
Pinch of salt
Pinch of pepper
2 chopped garlic
8 chopped Anchovies
1 tablespoon Dijon mustard
2 boiled egg yolks, 1 raw egg yolk
Vegetable oil (Corn or Sunflower)
Olive oil
Lemon (between half and a cup)
2 romaine lettuces
Croutons (You can make them at home by cutting the bread into small pieces and baking them in a preheated oven with olive oil for 15 minutes-let them cool)
Grated Parmesan cheese
How to make it:
Cut the chicken into small pieces and saute it with salt and pepper in vegetable oil or olive oil. Set aside.
In a bowl, rub one of the garlic to get the flavor on the bottom and sides, add this garlic very finely chopped, then put the raw egg yolks and macerate them to the maximum, add the pieces of anchovies slightly rinsed in water, to eliminate the brine. The Dijon mustard, the raw yolk and emulsify by adding enough olive oil to form a mayonnaise. When it is assembled mayonnaise, add the juice of one lemon. Taste if you need more salt or pepper.
The presentation can be with chopped lettuce or whole leaves, as you see fit. After placing the leaves on the platter, pour the dressing on each leaf, grate a lot of Parmesan cheese on top, and add the croutons when serving.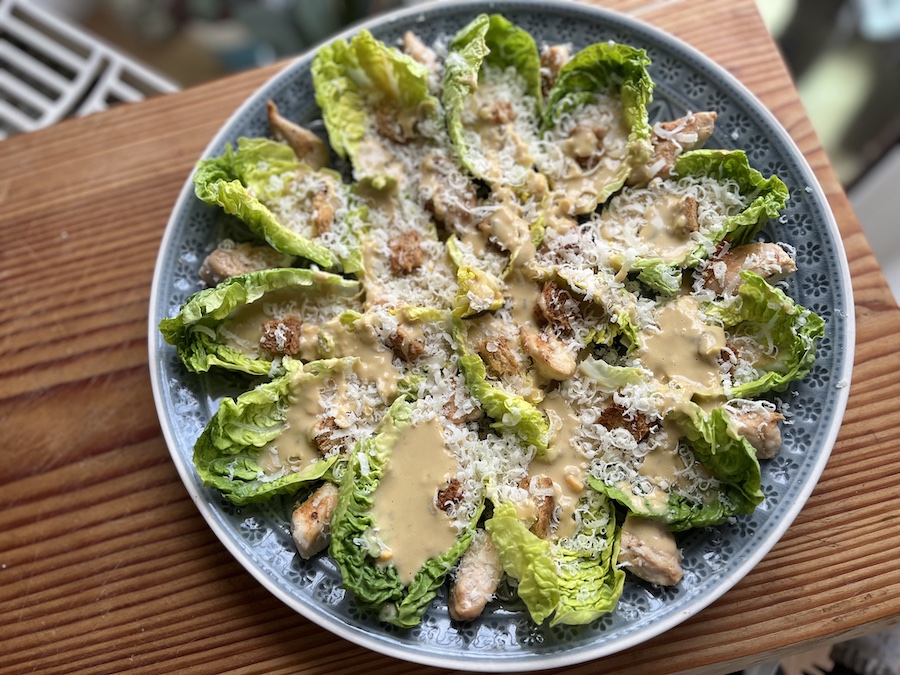 STORAGE & REHEATING
Storage: Leftovers can be stored in an airtight container in the refrigerator for up to 3 days.
Reheating: Not recommended
Freezing: Not recommended