Waldorf Salad is a popular salad consisting of apples, celery, walnuts, and mayonnaise, which is usually served on a bed of lettuce. The recipe was created in the late 19th century at the famous Waldorf-Astoria Hotel in New York City.

The hotel's chef, Oscar Tschirky, was responsible for creating the salad in 1896 for a charity dinner for St. Mary's Hospital. The original recipe for the salad consisted of apples, celery, and mayonnaise, but walnuts were added later. The salad was a great success and soon became an iconic dish of the hotel.

Today we present the classic original recipe, which is very easy to make.
Waldorf Salad
Ingredients:
2 diced green apples
1 cup chopped celery
1/2 cup chopped toasted walnuts (or pecans)
1 cup red or green grapes cut in half
3 tablespoons of Greek yogurt
3 tablespoons of mayonnaise
1 tablespoon of lemon juice
1 tablespoon of honey (optional)
2 tablespoons of chopped parsley
Salt and pepper to taste
Lettuce leaves to serve
Directions:
Cut the apples into small cubes.
Mix the apples, celery and walnuts, and grapes in a bowl.
In another bowl, mix well the mayonnaise, yogurt, lemon juice, salt, and pepper. Pour this mayonnaise mixture over the apples and mix well. Garnish with fresh chopped parsley on top.
Serve the salad on a bed of lettuce leaves.
This is the original Waldorf Salad recipe, but there are many variations and additional ingredients that can be used to make the salad even tastier.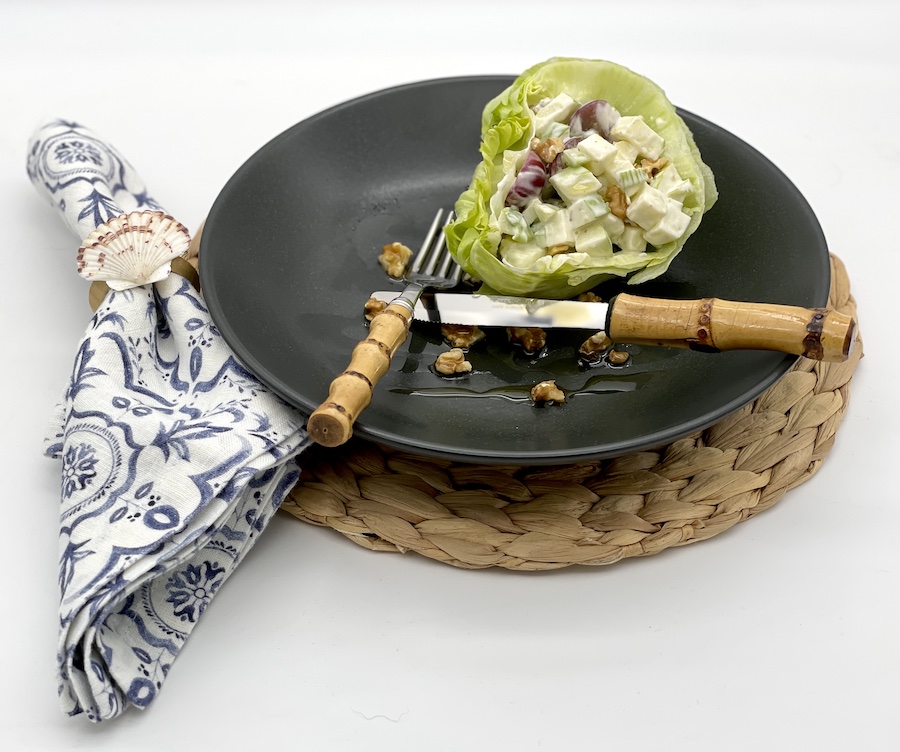 STORAGE & REHEATING
Storage: Keep Up to 3 days in the refrigerator
Reheating: Not recommended
Freezing: Not recommended