I'm already warning you that this recipe is even for those who, like me, turn their faces to eggplant. The result is amazing! Forget peppers for this recipe!
What is Sicilian Caponata?
The origin of this recipe goes back to Sicily in Italy, where Capone fish is part of a recipe often used by the local aristocracy.

The peasants, however, with little access to the expensive ingredient, created a recipe using eggplant.
The recipe I share now is the original Italian recipe. Some recipes on the internet use peppers and other different ingredients, i.e. it is an eggplant antipasto, but it is not the original Sicilian Caponata. Every Caponata is an antipasto, but not every antipasto is a Caponata.
Serve it with sliced bread and see if I'm not right. The recipe is wonderful!
Sicilian Caponata
Ingredients:
½ liter olive oil (you can mix 50% other vegetable oil)
2 to 3 medium eggplants
2 small purple onions
2 stalks of celery
80 g capers
100 g green olives
2 Italian tomatoes
2 tbsp. tomato extract
2 tbsp. sugar
80 ml of vinegar
Parsley to taste
Basil to taste
Part 1
Cut 3 clean medium eggplants into small cubes and fry them in half a liter of olive oil. Set aside on a paper towel to suck up some of the fat. Do not fry all at once. Fry in three stages and let the little cubes lightly brown.
Part 2: The Sautee
Heat a frying pan with a little olive oil and add the two purple onions, until they are softened. During this process add a splash of white vinegar (white wine or apple) to brighten the onion. Add a pinch of salt, add the two celery stalks (without browning, just let them soften), the 80 grams of capers washed in water to remove the brine, the 100 grams of green pitted olives, and finally the tomatoes. Sauté well.
Part 3: The Pastry
In a small bowl add two tablespoons of a good tomato extract, 2 tablespoons of white sugar, and 80 ml of white wine or apple vinegar.
Mix this sauce with the ingredients in the pan. Let the liquids reduce a little, more or less 20 minutes, and place the fried eggplants in the middle of the process.
Add the basil and parsley at the end.
Let it cool in the refrigerator for at least 2 hours and serve your antipasto with bread.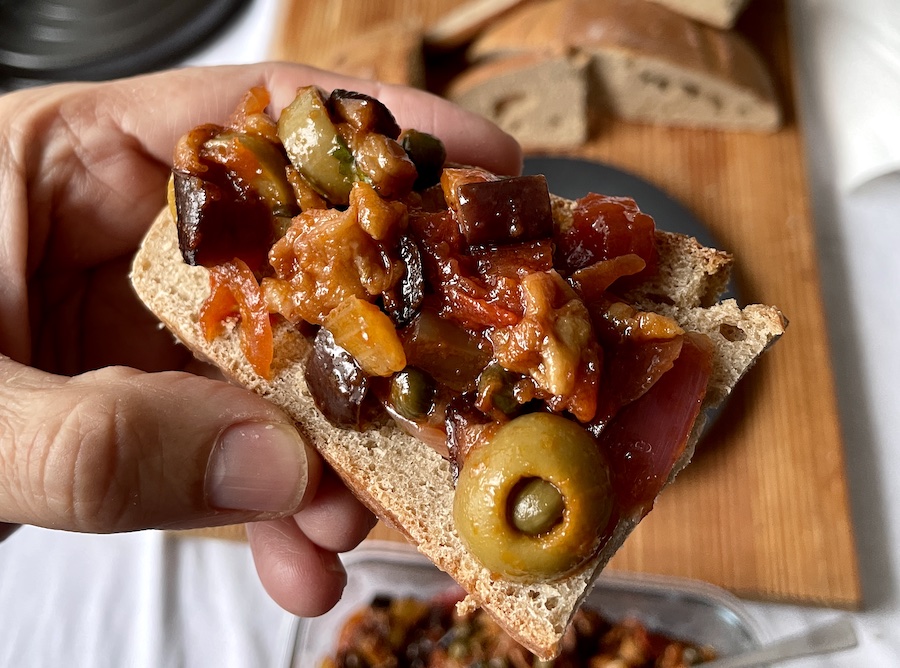 STORAGE & REHEATING
Storage: The leftover can be stored in an airtight container in the refrigerator for up to 3 days.
Reheating: Not recommended.
Freezing: Not recommended.