Flexitarianism is a term used to describe the choice of people who do not follow a strictly vegetarian or vegan diet, but who reduce or avoid the consumption of meat and other animal products in their meals.
One of the main reasons why it has gained popularity is the growing awareness of sustainability. Meat and dairy products have a significant impact on environmental degradation, from air and water pollution to deforestation and soil degradation. Reducing meat and dairy consumption can help reduce these negative environmental impacts.
Another reason for the rise of flexitarianism is health concerns. Studies have shown that a plant-based diet can reduce the risk of chronic diseases such as heart disease, diabetes, and some types of cancer. At the same time, a flexitarian diet allows people to get protein and other important nutrients from plant and animal sources to a lesser degree.
Many people adopt flexitarianism for ethical reasons, related to animal welfare. The mass production of meat and dairy products often involves cruelty to animals. By reducing the consumption of these products, people can contribute to a more "humane" treatment of animals.
Many chefs and restaurants are already incorporating more vegetarian and vegan options on their menus, and flexitarianism is one way to meet a growing demand for healthier, more sustainable, and more ethical meals.
An important and growing trend with significant implications for Gastronomy. Understanding the role of food in health, the environment, and animal welfare drives the demand for healthier, more sustainable, and ethical meals. It is possible to follow this trend when creating dishes and recipes for a flexitarian audience.
If it is difficult to become vegan, or even vegetarian, start experimenting with recipes in your home and with your family and see that there are many options and ideas to be reproduced without meat and dairy, or create your own flexitarian menu yourself.
Portobello mushrooms stuffed with mascarpone cheese
Ingredients: (one person)
2 large Portobello mushrooms (one serves as a shell or base, the other
is cut for the filling)
Directions:
Clean the mushrooms with a mushroom brush.
Remove some of the contents of the larger mushroom, but leave the base for the filling.
Chop the other smaller mushrooms and sauté them with onion, celery, garlic, very finely chopped carrots, and colored peppers, all very finely chopped. Salt and pepper and add 150 g mascarpone, when the vegetables are soft, mix well and salt and pepper again. Let it cool a little.
Fill the larger mushroom with the mixture and place it in the preheated oven at 190 degrees with foil for 20 minutes. Remove the foil, sprinkle with grated Parmesan cheese, and place in the oven for another 10 minutes.
Serve with a salad as a main dish for vegetarian dishes or as a side dish for meat dishes.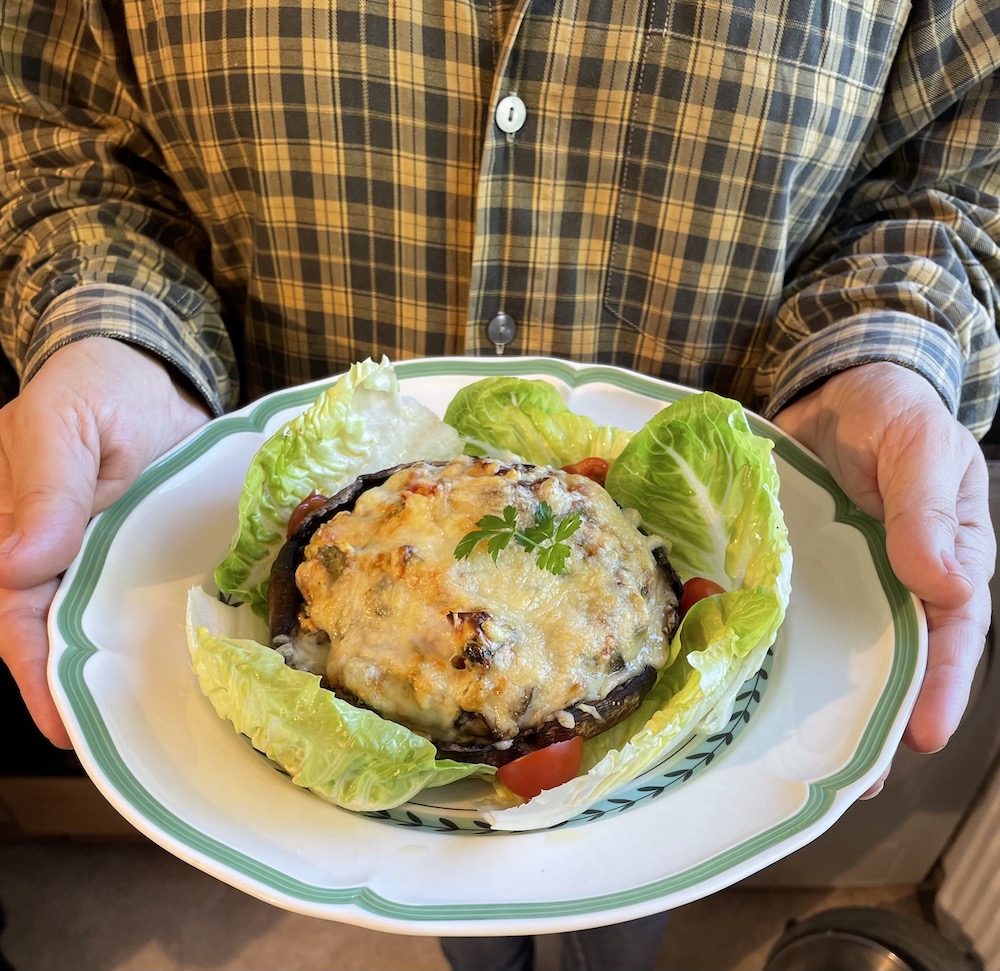 STORAGE & REHEATING
Storage: Keep in the refrigerator for up to 3 days in a tightly covered container.
Reheating: A few minutes in the microwave until hot.
Freezing: Not recommended.