Comfort food is a term that refers to food that brings a feeling of comfort and well-being when consumed. It makes us feel at home, brings back fond memories, and soothes us.

Comfort food options vary according to personal taste and culture, but some are universally recognized. For example, a plate of macaroni and cheese with melted cheese is a classic American comfort food. In Brazil, rice and beans with a fried egg are a popular choice for those seeking this type of food. Mashed potatoes and soups are world classics. Sometimes it has to do with climate and temperature, i.e. ice cream will be comfort food in very hot places and very warm soups play the same role in cold climates.

One of the reasons why comfort food is so popular is that it includes simple and affordable ingredients that have been in our kitchens since childhood. These are recipes that require no advanced cooking skills and can be prepared in just a few minutes.

Furthermore, comfort food can have a positive psychological effect on our mood and well-being. The feeling of comfort and security that it provides can be a great way to relieve stress and anxiety. This is why many people seek it out in difficult times or when they feel lonely.

However, it is important to remember that comfort food should not be seen as a permanent solution to emotional problems, of course. It is necessary to find other ways of dealing with stress and anxiety in the long term, such as regular physical activity, meditation, and therapy.

But there is no one who doesn't feel good about a little food prepared with love and dedication.
To celebrate COMFORT FOOD, today's recipe is a Mashed Potato. I hope you enjoy it
The perfect mashed potatoes
Ingredients:
1 kg organic potatoes, washed and sanitized, about the same size so that they cook evenly.
250 ml whole milk and/or cream.
150 ml butter.
Into the milk: season with salt, 1 bay leaf, and a pinch of nutmeg.
Directions:
Cook the potatoes in their shells until the fork goes in and out easily, and drain the water. While still warm, peel and mash them, and finally pass them through a fine sieve. Start with the butter and beat a little with a wooden spoon. Slowly add the hot milk and stir gradually until the desired consistency is reached. I didn't use all the liquid, because I like a little thicker puree, as you prefer.
Serve with a drizzle of olive oil and garnish with Paris mushrooms with garlic or the green seasoning of your preference.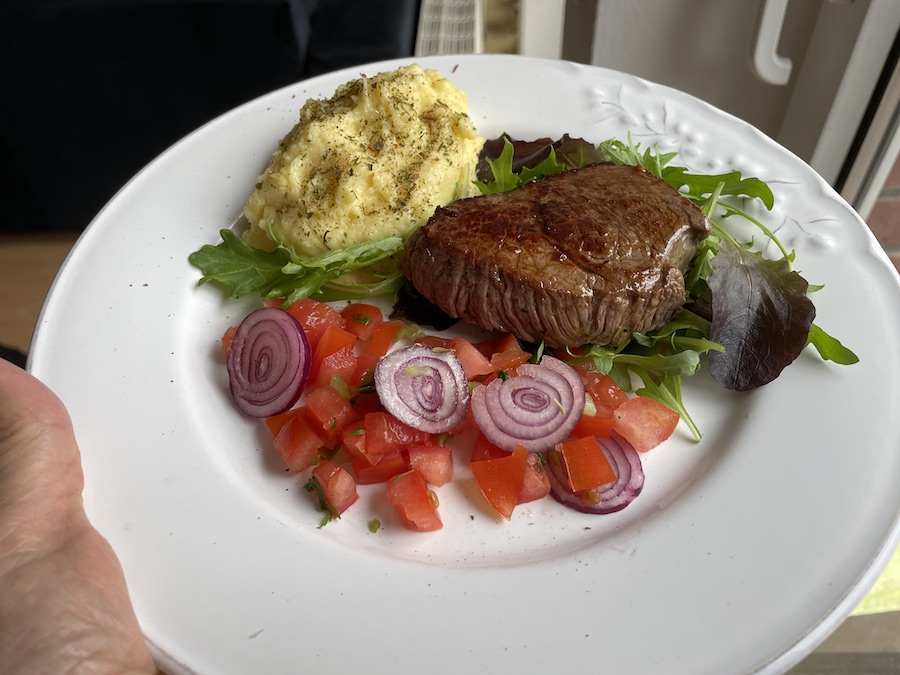 STORAGE & REHEATING
Storage: The leftover can be stored in an airtight container in the refrigerator for up to 3 days.
Reheating: Not recommended.
Freezing: Not recommended