The set table has always been an elegant way to receive friends and family at home, but during the COVID-19 pandemic, this tradition took on a new meaning. With social isolation and the need to stay at home, many people found in the set table a way to make meals more special and create moments of relaxation and joy even during difficult times.
In Brazil, the trend of the set table exploded during the pandemic, driven mainly by social networks, where digital influencers share their creations and decoration tips. Instagram, in particular, has become a popular platform for lovers of the set table, with hashtags like #mesaposta and #tabledecor becoming increasingly popular.
What is a set table, anyway? In short, it is the practice of decorating the dining table (at any meal) with carefully chosen items such as dishes, cutlery, cups, napkins, and other accessories. The idea is to create a warm and pleasant atmosphere for guests, making the meal a special and memorable moment. Where people can exponentiate the simple act of eating into an act of communion, conversation, sometimes reconciliation, and certainly into a more pleasant climate when the decoration is careful and beautiful.
One of the reasons why the set table became so popular during the pandemic is that it offers a way to bring a little glamour and sophistication into the daily routine. With so many restrictions and uncertainties the set table offered a temporary escape into a more beautiful and elegant world. Even if it was only well-placed forks, care in the arrangement of objects, no matter how simple they were.
In addition, the set table has also become a form of artistic expression for many people, who dedicate themselves to creating unique and personalized compositions. The variety of styles and themes is enormous, from romantic and delicate tables to modern and bolder compositions. Many see it as a new niche for a new profession.
But it is important to remember that setting a table doesn't have to be an expensive or complicated activity. With a little creativity and care, it is possible to create a beautiful and elegant table with simple and affordable items. The important thing is to let your imagination flow and create a pleasant and welcoming atmosphere for all your guests.
Even after lockdowns, many people prefer to have their meals at home, either because of the home office, the more flexible schedule that has developed in the meantime, or just to enjoy family and loved ones. A well-laid table helps to provide practicality and beauty in this unique moment.
The table is where the best conversations, the childhood memories, and where we get to know each other the most. It is a demonstration of love, care, and affection. It is at the table that we create effective bonds with friends, family members, and professionals. A pleasant table makes people stay longer, lengthening the conversation. Healthy family habits are also created, including for the children's education. With a good visual presentation of the table, even the food looks tastier. And it does!
Set your table with the items you have; even a little flower stolen from a garden will bring life to this special place.
Salted Caramel
I chose a sweet recipe of my own to represent the warmth of the Brazilian set table. This recipe is of my own making, however, a little time-consuming, but worth every minute.
Ingredients:
700 ml milk
350 of white sugar
2 full spoons of butter
Pinch of good quality vanilla or half a vanilla bean (optional)
Fleur-de-sel
Directions:
Mix the milk with the white sugar and turn on the stove, stirring non-stop for an hour or so. Until it becomes a creamy caramel. Let it cool in a baking dish. It will harden a little. In a deep frying pan or in a saucepan put the butter, let it brown a little, and add the cold caramel little by little.
Add the vanilla if necessary. And lastly the salt in the amount you prefer. Add it little by little so as not to salt it too much.
Let it cool well, put it in a nice bowl, and take it to your table to be eaten with bread, cheese bread, as a filling for cakes, pies, or simply spooned.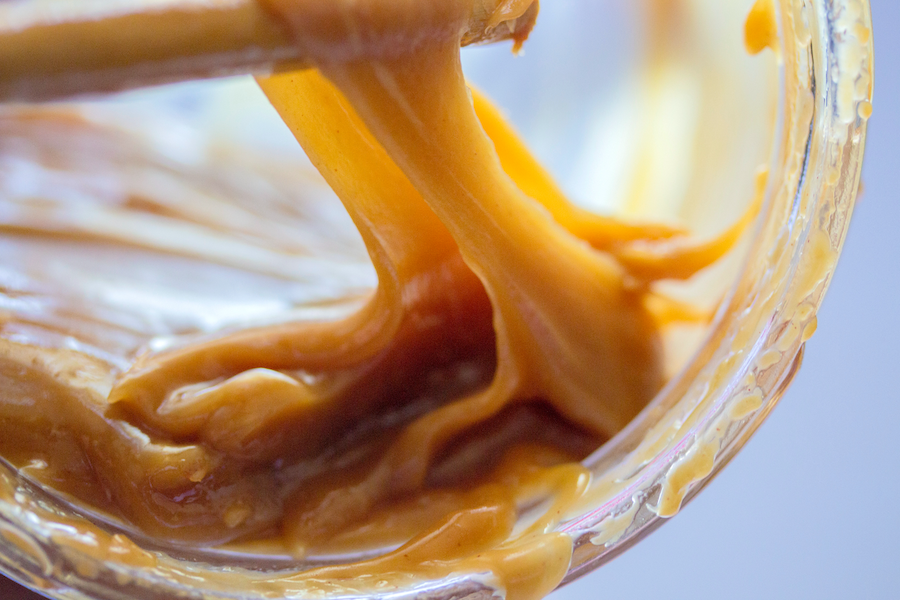 STORAGE & REHEATING
Storage: One week at room temperature
Reheating: Not recommended
Freezing: Not recommended