The Charlotte dessert is a delicious culinary creation dating back to the 18th century. It is a classic dessert that combines layers of cookies, breadsticks, or sponge cake soaked in liqueur or syrup, with a creamy filling of fruit, such as strawberries, raspberries, or peaches, as you like.
Charlotte's history dates back to France, where it was created in honor of Queen Carlota, wife of George III of England. The dessert is believed to have been created by renowned French chef Marie-Antoine Carême, known as the "king of chefs and the chef of kings."
Charlotte was originally made with slices of flatbread, but over time, the recipe evolved to include layers of champagne cookies or ladyfinger cookies, which are lighter and add a delicate texture to the dessert. The cookies are soaked in a liqueur or syrup, such as orange liqueur before being arranged on a baking sheet lined with parchment paper or plastic wrap to be unmolded. Or it can be made in a tall glass pan, but always with a "wall" of cookies around the bowl, which gives it all its charm. For this wall, the cookies should not be soaked in syrup so that they can retain the filling of the dessert.
The filling of the Charlotte is a smooth and creamy mixture of fresh fruit, usually mixed with custard, Belgian cream, mascarpone cream, or even whipped cream. The fruits are chopped and incorporated into the cream, creating a tasty and refreshing filling. After the layers of cookies and filling are assembled in the pan, always alternating the cookies and the creams used, the dessert is refrigerated for a few hours or overnight, allowing all the flavors to blend and the cookies to soften.
Once the Charlotte has been refrigerated sufficiently, it is carefully unmolded, revealing the layers of cookies and the creamy filling if it is not in a clear, deep container. Often, the dessert is decorated with fresh fruit, chocolate shavings, or even mint leaves to add a touch of elegance.
Charlotte is an extremely versatile dessert, allowing for a variety of variations. For example, you can substitute fresh fruit for canned fruit or jam, offering a different flavor experience. In addition, some chefs also add jam or syrup between the cookie layers to add an extra touch of moisture and flavor.
This dessert delights food lovers with its impeccable presentation and delicate flavor. The combination of crispy cookie layers, creamy filling, and juicy fruit creates a harmony of flavors and textures that will please everyone.
If you are looking for an elegant and classic dessert to impress your guests, Charlotte is sure to be a perfect choice. Its rich history and reputation as one of France's most beloved desserts will surely contribute to creating a memorable dining experience.
Before we start with the recipe itself, I already leave here the recipe for the syrup used to soak the cookies for the filling:
1 part water+1 part sugar. Bring to a boil, turn off the heat. Here you can add liquor or not. I suggest Cointreau, a perfect orange liqueur for this.
How I did it and finished in 40 minutes the whole dessert(I will comment on what I would modify)
Part one:
Since I made it in a deep bowl, I lined the entire side with the cookies placed upright like a fence. Don't worry if some fall out, once you start putting the filling in it gets easier.
Filling 1 :
To accommodate the first layer of cookies I chose brigadeiro branco, a famous Brazilian sweet, which in this case is composed of only one can of condensed milk (400g) + 200g of heavy cream.
Take it to the fire until the bottom of the pan starts, the mixture should still be velvety, but not too thick.
Let it cool and place it in the bottom of the Charlotte pan, and place the moistened cookies in the syrup already provided, forming a carpet.
Place in the refrigerator.
Filling 2:
This filling is a creation of mine. Whip 175 g of Philadelphia cottage cheese, the amount on the European package, plus 100 g of icing sugar, and whip it in the mixer for 5 minutes. Add 250 g of cold Mascarpone and beat for another 5 minutes at medium speed.
Add gelatine to firm up the mixture. I used a 9 g package that gelatinizes up to 500 g of the mixture. Hydrate with 4 tablespoons of water, let it rest for 20 minutes, then heat lightly in a bain-marie without boiling, it will just become liquid. Add to the mixture. A pinch of pistachio nuts adds color to the cream.
Place this filling on top of the cookies from the first step.
Add the second layer of cookies soaked in the syrup I gave first.
Put it back in the refrigerator.
Filling 3: Belgian Cream
Ingredients:
300g milk
400g condensed milk
200g heavy cream
24g cornstarch
60g sieved egg yolks
Mix before boiling and then until thickened, preferably with a fouet.
Here ends the Belgian cream, but I still added 100g of white chocolate as soon as I took it off the heat, to make it firmer.
I let it cool and before adding it I put a layer of red fruit jam over the cookies to give the dessert a bit of a sour note.
After adding the third filling, return to the refrigerator for 4 hours and decorate as you prefer. I put strawberries, raspberries, and a blackberry-like fruit. Mint leaves as well.
Return to the refrigerator and serve well chilled.
Although they devoured the dessert, I would only make 2 fillings interspersed because they are all wonderful, but you can't notice the peculiarity of each one when you eat it. I would leave out the white brigadeiro one.
Besides being beautiful, the dessert is delicious!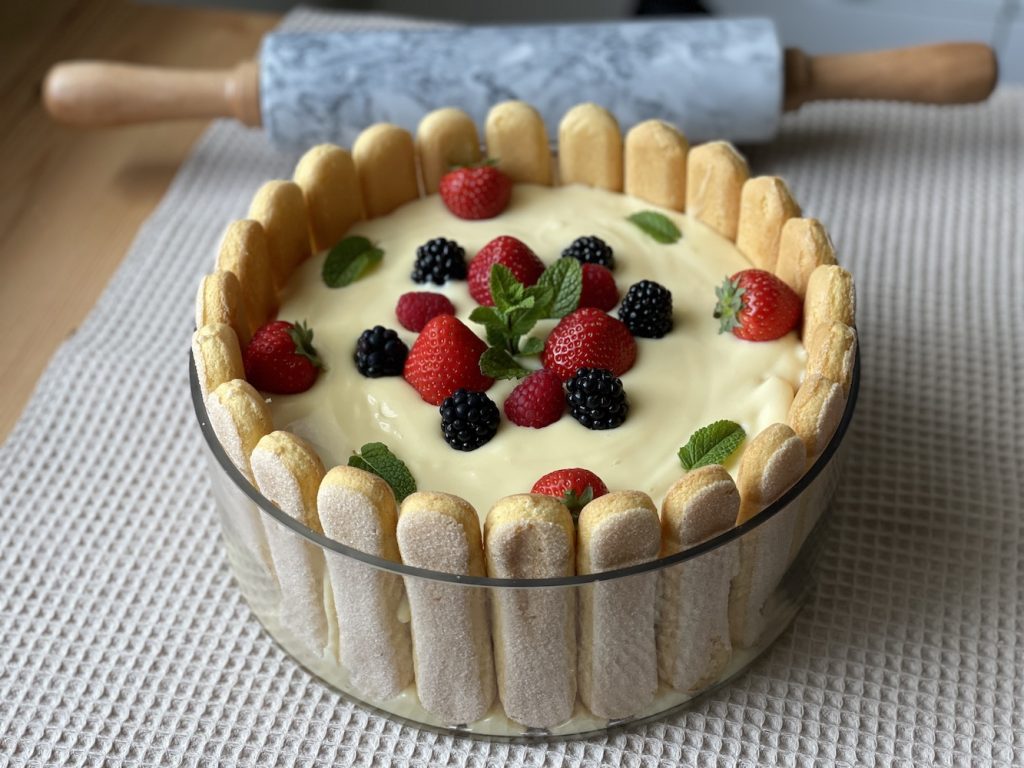 STORAGE & REHEATING
-Storage: Up to 5 days in a closed container
-Reheating: Not necessary
-Freezing: Not recommended