Ingredients
1 cup granulated sugar (200g)
1 tablespoon grated lemon zest
½ teaspoon salt
½ cup melted unsalted butter (113g)
2 large eggs
¼ cup fresh lemon juice (60ml)
1 teaspoon vanilla extract
2⅓ cups all-purpose flour (280g)
½ teaspoon baking soda
¾ cup icing sugar (98g)
¾ cup granulated sugar
Directions:
Whisk together the sugar, lemon zest, and salt in a large bowl. Rub the sugar and zest together with your fingers for extra flavor until the mixture looks like wet sand. Whisk together the melted butter, eggs, lemon juice, and vanilla until well incorporated.
In a small bowl, mix the flour and baking soda. Add the flour mixture to the sugar mixture until smooth. Cover and refrigerate for at least 4 hours or up to 12 hours.
Preheat the oven to 180º Celsius. Line 2 cookie pans with parchment paper.
Fill two bowls one with granulated sugar and one with icing sugar and set aside.
Scoop 12 balls of cookie dough with a springform spoon (ice cream scoop) of about 1 ½ tablespoons. Use a full tablespoon if you don't have one, a springform spoon, and make little balls with your hands. Cover and place the remaining dough back in the refrigerator.
Roll the dough between your palms to form smooth balls. Cover each ball of dough very well with the crystal and icing sugar and place them 1 1/2 inches apart on a lined baking tray.
Bake for 12 to 14 minutes or until the tops crack and the bottom edges begin to turn lightly brown. Let cool on the tray for 2 minutes, then transfer the cookies to a rack and let cool completely. Repeat the process with the remaining dough. The cookies can be stored in an airtight container for up to 5 days.
Notes
I recommend bringing the eggs to room temperature, so they will incorporate into the dough without mixing.
Remember to scrape the lemon before juicing! Also, when you scrape the lemon, make sure you scrape only the yellow parts. The white layer underneath is bitter.
To get more juice from the lemons, roll them under your hand on the countertop to release the juice.
Rubbing the lemon zest into the sugar helps the oils in the zest to release and be absorbed by the sugar. This enhances the lemon flavor of the lemon-crusted cookies.
You need to work quickly when rolling out the cookie dough and coating it with powdered sugar so that the dough doesn't get too hot before going into the oven.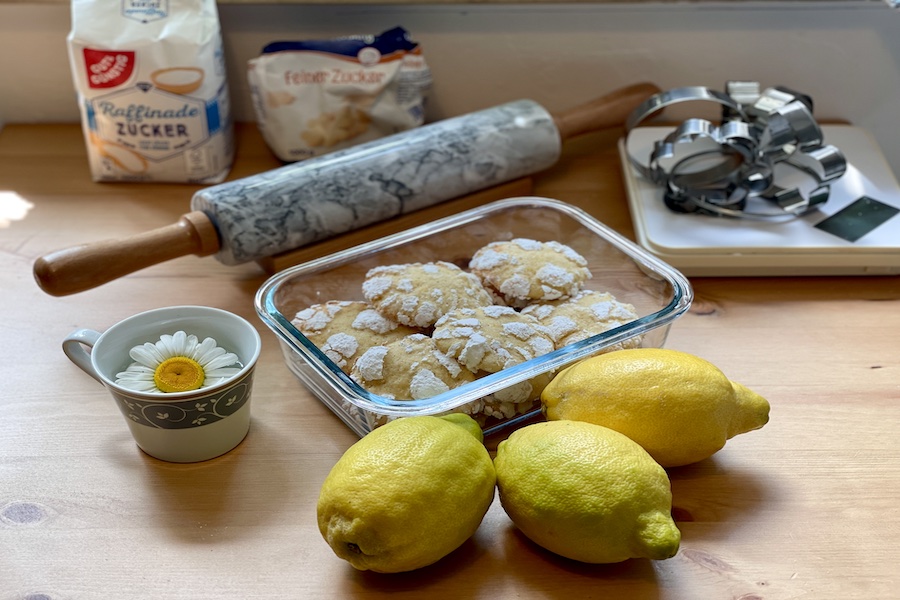 STORAGE & REHEATING
-Storage: Up to 5 days in a closed container
-Reheating: Not necessary
-Freezing: Not recommended