Custard cream, also known as crème pâtissière, originated in 17th-century France, during the reign of Louis XIV. François Massialot, a famous French chef, popularized the use of this cream in his recipes.
Custard cream is made with eggs, milk, sugar, and cornstarch (or wheat flour) and has a smooth, silky texture. It is used in many desserts, such as pies, éclairs and profiteroles, cake fillings, dreams, etc.
Over the centuries, crème de confectioner's custard has evolved and gained variations, such as adding flavors and combining it with whipped cream to create the crème diplomat. It is an essential element of pâtisserie all over the world.
It is worth talking about the importance of vanilla. The vanilla bean or vanilla paste should be used for a strong and natural flavor. The vanilla extract should be avoided, but is a much cheaper option.
Here is a complaint as a German resident: most confectioners use the industrialized pudding and not the wonderful cream of eggs, milk, and vanilla. Even the name is Puddingcreme, in the German translation. Shame on you, Germany! Maybe they will learn here how simple it is and start using it, like their French neighbors.
Some people make it only with wheat flour, which provides a good texture, or only with cornstarch, which provides better flavor. Here we put the best of both worlds together.
INGREDIENTS
Whole Milk (480ml/g | 2 cups)
Refined Sugar (150g | ¾ cup)
Wheat Flour (18g | 2 Tbsp)
Cornstarch (18g | 2 Tbsp)
Egg yolks (4 pcs. | 70g)
Vanilla (½ Broad beans or 1 Tbsp. Pulp/Extract)
Directions:
Put the milk to warm. If you are going to use the vanilla bean, add it now, scraping the seeds with a knife and adding it to the milk. If not, leave it for the end.
In a bowl mix the sugar with a fouet until all lumps are dissolved, then add the starch and the flour, mixing well without leaving any lumps. Add the sifted egg yolks, I had to use 5, because after sieving they weighed 71 g because they were small eggs.
Mix very well and add little by little half of the hot milk, stirring intensely.
When it is well dissolved, return to the pan and keep stirring until it reaches the consistency of porridge. Remove from heat, and immediately cover with plastic wrap, making sure not to create a film on the cream until it's time to serve.
You can refrigerate it before using it and whip it again to get the right texture.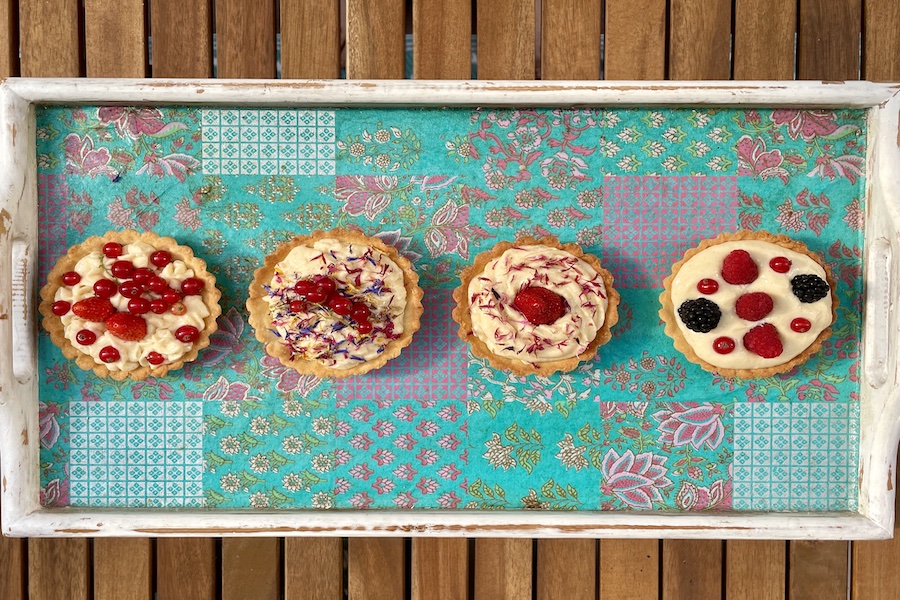 STORAGE & REHEATING
-Storage: Up to 3 days in a closed container in the refrigerator
-Reheating: Not necessary
-Freezing: It is possible to freeze the custard. However, it is important to take some care to ensure that the texture and quality of the custard is not affected:
let the custard cool completely before putting it in the freezer;
place the custard in a container with an airtight lid and close it tightly;
label the container with the date and type of custard.
Custard can be stored in the freezer for up to 3 months. When thawing, leave the custard in the refrigerator for a few hours before using it. It is also recommended to stir the custard well after thawing to ensure its smooth and creamy texture.