There are several versions of this recipe from los hermanos, but this one seems to be the original.
Light in taste and with a very good dough to work with, that doesn't stick, this version with lard can be substituted with butter in the same proportion or oil in a little less quantity.
Empanadas have always had a very big social role in South America, being used as a way to increase the family income by housewives who stayed at home taking care of their children. They soon emerged from the informal economy and today they are known in hundreds of different fillings, depending on the region, but always highly appreciated.
DOUGH
Ingredients:
500 g (4 cups) of wheat flour
10 g (½ tablespoon) coarse salt
240 g (1 cup) water
100 g (½ cup) lard
Directions:
In a saucepan add 240 g (1 lb) of water and 10 g (1 oz) of coarse salt, bring to a light boil, add the lard or butter, and let it dissolve well off the heat. If you use vegetable oil, use a little less until the dough is smooth.
Let it warm and refrigerate for 24 hours. Take about 10 minutes beforehand to work with it again.
FILLING
Ingredients:
250 g (1⅓ cup) cooked potato
2 hard-boiled eggs
25g (1¾ tablespoons) olive oil
500 g (500 g) minced meat
10g (½ tablespoon) salt
Black pepper to taste
50g (¼ cup) lard (optional)
200 g (1 unit) onion
½ teaspoon cumin
½ teaspoon sweet paprika
100 g (⅔ cup) olives
80 g (½ cup) raisins (optional)
Parsley to taste
Boil the eggs and potatoes to dente and set aside.
Saute the meat preferably with all the other ingredients, let it cool a little, and add the eggs and potatoes cut into small cubes.
Open the dough in the preferred size in discs and put a good amount of filling. I used a maker shape https://anacunhabusch.com/y77e but it can be done by hand.
Bake in the hottest oven possible until golden brown.
It can be used as a starter, snack, or breakfast. I even eat them as a main dish, they are wonderful!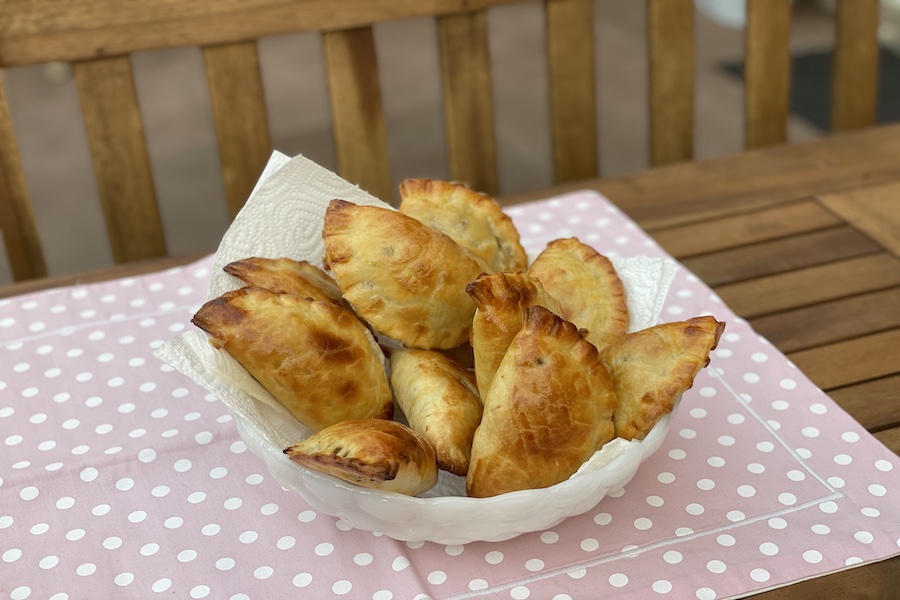 STORAGE & REHEATING
Storage: 5 days in a closed container
Reheating: Microwave or oven
Freezing: Can be frozen for up to 3 months.